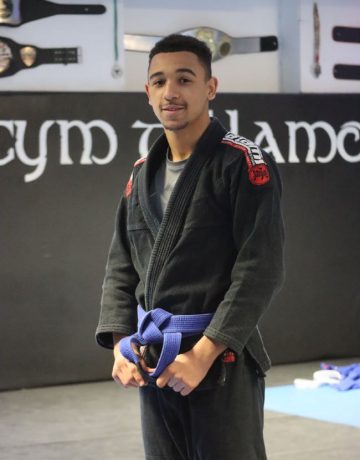 Jamal Camillo
Biography:
Growing up I had to deal with a lot of racism ,especially in the area that I lived in when I was a kid.As a result of this I would fight a lot with the kids in the area and would often get caught up in fights.
This is when I enrolled in a Kickboxing club Tullamore at the age of 10 and trained there for two years until it closed down. Throughout my time at the Kickboxing Club, the art of Brazilian Jiu Jitsu and MMA were always on my mind from watching the likes of Forrest griffin,Rich Franklin and of course Anderson Silva in the UFC to name a few.I was intrigued at the fact of grappling but for some reason I never knew about SBG Tullamore (back then it was called Evolution MMA).
I never slacked off training and would learn Muay Thai from my Da. I also went on to play soccer for 2-3 years with Mucklagh and Tullamore town which I believe helped develop my athleticism. Despite this ,the art of fighting was always in my mind and I was longing to get back to it. One day when I was 15, I gathered up the courage to go up to SBG Tullamore and I've never looked back since. Initially was only training in Jiu Jitsu to stop takedowns of grappling orientated fighters in MMA but the 'gentle art' would eventually grow on me,which led to me buying a Gi so Kieran could grade me .I went from 'just a kickboxer ' to a guard puller who lobby's for dela riva sweeps.
SBG Tullamore has helped me develop as a better martial artist,person and friend.They also gave me an amazing opportunity to assist in the coaching of the little up and coming Jiu Jitsu ninjas ,which helps me to develop my coaching skills which will aid me in the future.
Achievements
So far to date my biggest achievements are:
1. Receiving my Brazilian jiu jitsu Blue belt from Kieran Davern in 2019
2. Winning gold in both NAGA and Grappling Industries in the white belt division in 2019
3. Winning my first Kickboxing fight by decision in November 2019 at three hours notice
Goals
My short term goals are :
To get as many amateur kickboxing,mma and Jiu Jitsu matches as I can, winning a few belts and medals along the way.
My long term goals are :
To be a professional MMA fighter who's name won't be forgotten easy
Expect to see more from me in the near future my friends